After serving as a Field Examiner for the National Labor Relations Board in New York City, Jill Goldy began her formal legal career as an employment law counselor and litigator at Seyfarth Shaw in Chicago, where she litigated on behalf of employers in several federal and state court jurisdictions. She also led the Labor Relations Division of the City of Chicago's law department during Harold Washington's administration. She then spent the next 20 years at Motorola, Inc. (later Motorola Solutions, Inc.), where she was a corporate officer heading the global labor & employment law practice and later simultaneously serving as the company's chief ethics and compliance officer. During her tenure at Motorola, Ms. Goldy worked closely with the company's senior leadership and Board of Directors on all significant employment law matters, including numerous restructurings, leadership changes and international M&A activity, directed complex investigations and employment litigation, and negotiated hundreds of employment and dispute resolution agreements. Since co-founding Feis Goldy LLC in 2014 she quickly established a successful plaintiff's side employment practice, representing employees at all levels in difficult, often complex, employment situations. She has been elected as a Fellow of the prestigious College of Labor and Employment Lawyers, is a peer-nominated Fellow of the American Bar Foundation and has also been recognized annually since 2016 as an employee-side Illinois Leading Lawyer in Employment Law.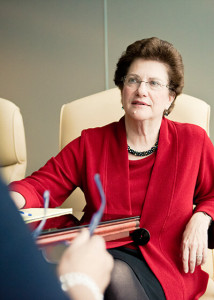 Ms. Goldy also conducts neutral workplace investigations and training on employment law matters. Historically, she has been an invited speaker on employment law and ethics & compliance matters, including conferences sponsored by the American Arbitration Association, the National Employment Law Association, the American Employment Law Council, the Association of Corporate Counsel, and the Chicago-Kent College of Law.
Ms. Goldy served on the Administrative Board of the Cornell University Council from 2015-2017 and was appointed to a new four-year term (2019-2022) as a member of the Council. At the Cornell ILR School, she also currently serves on the Dean's MILR Advisory Board and has been named the ILR School's Jean McKelvey Neutral-in-Residence for the 2021-2022 academic year. She was the 2013-2015 Co-Chair and 2011-2013 Co-Vice Chair of Cornell's President's Council of Cornell Women and is a former member of the Smith College President's Midwest Advisory Council, the American Employment Law Council Advisory Board, and the H.R. Policy Association Labor Law Advisory Board. In addition to pursuing many charitable and cultural interests, she is an avid sailor and photographer.
J.D. – Columbia University School of Law
Harlan Fiske Stone Scholar
Journal of Law & Social Problems
M.S. – Industrial & Labor Relations, Cornell University
Frances Perkins Memorial Fellowship
Research Assistanceship with Jean McKelvey
B.A – Smith College
Cum Laude
Phi Beta Kappa
Samuel Bowles Prize
Illinois
New York
6th Circuit Court of Appeals
7th Circuit Court of Appeals
10th Circuit Court of Appeals
Multiple U.S. District Courts