Brenda Feis' first career was as a defense-side employment litigator and equity partner at the international law firm Seyfarth Shaw, representing Fortune 100 companies in a wide array of employment disputes. When she decided to "switch sides," she launched her plaintiff-side career as a partner at a nationally preeminent civil rights class action boutique before founding FeisGoldy LLC with her partner, Jill Goldy, in 2014. As a plaintiff-side employment lawyer with a deep understanding of the employer's decision-making process, Ms. Feis has advised hundreds of senior management-level employees faced with difficult employment situations, helping them develop successful strategies to navigate a solution. Ms. Feis is a tenacious advocate who has obtained substantial outcomes for individual employees in both litigation and pre-litigation settings. She has tried numerous cases to verdict for both sides with success.
​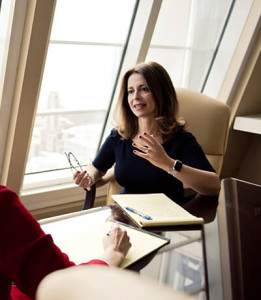 Ms. Feis has been consistently recognized as an Illinois Leading Lawyer in Employment Law for both management and employees, and is a fellow in the distinguished College of Labor & Employment Lawyers. She is a recent appointee to the EEOC's Select Task Force on the Study of Harassment in the Workplace.
In addition to practicing law, Ms. Feis also serves as a neutral in investigations. She is also a frequent lecturer on employment law issues, particularly sexual harassment and retaliation, and has conducted extensive sexual harassment training throughout the country. Her lectures in this area include presentations at the American Bar Association Equal Employment Opportunity Committee annual meeting, the ABA National Institute on Sexual Harassment, the National Employment Law Institute, the Practising Law Institute, the Illinois Institute of Continuing Legal Education, the Chicago Bar Association, Northwestern University Law School Feminist Symposium, Chicago-Kent College of Law Sexual Harassment Forum, and numerous professional society and client symposia.
Ms. Feis is a member of the board of directors of the Federal Bar Association-Chicago Chapter, as well as a member of The Chicago Network, a forum for senior female leadership in the Chicago business community. She also serves on the board of trustees of the Illinois Holocaust Museum & Education Center and previously served on the boards of Midwest Young Artists and Jewish Vocational Services. Ms. Feis is a high school mentor through iMentor, the founder of a scholarship foundation for STEM education for low-income girls, and an active supporter of the Alzheimer's Association and the Weitzmann Institute of Science.
J.D. – Duke University School of Law
Editorial Board, Duke Law Journal
B.A. – Duke University
Summa Cum Laude
Phi Beta Kappa
Fellow, College of Labor & Employment Lawyers
Illinois Leading Lawyer in Employment Law
"Top 15 Rising Star Litigators" in Chicago
(Illinois Legal Times 1996)
N.D. Illinois
N.D. Illinois Trial Bar
7th Circuit Court of Appeals